7-Eleven Malaysia is Giving Away DreamWorks KouKou For FREE and They're Adorable!
Think cute, fun and first of its kind!
7-Eleven Malaysia, everyone's go-to convenience store, is about to have another super cute, super fun giveaway for its customers!
"What are they giving away," you ask? Adorable, first of its kind DreamWorks KouKou!!!
"But… what on earth is a KouKou???"
Pronounced as "Koko", this word is derived from the Chinese word Kou, which basically means "mouth" or "bite".
KouKou are fun and adorable bite-sized plushies that come in the shape of dumplings! Omg, too cute!
What's more, these KouKou come in the form of some of your favourite DreamWorks Animation characters!
You can expect 20 different designs of KouKou from popular DreamWorks Animation films such as Madagascar, How to Train Your Dragon, Kung Fu Panda, Shrek, and more! Imagine characters like Toothless from How to Train Your Dragon in dumpling form! OMG. TOO. CUTE.
"How do I join this giveaway and collect all 20 KouKou?!"
Simple! No registration required! To collect these Kou Kou, you just have to collect exclusive DreamWorks stickers!
For every RM5 you spend at any 7-Eleven Malaysia branch, you get 1 sticker. Collect 22 stickers and get 1 free KouKou!
The stickers will be given out from 29 August to 23 October 2017, while the KouKou redemption period will run until 30 October. Don't miss out!
Better yet, customers can get 1 bonus sticker with any purchase of partners' products, which include Coca-Cola, Cadbury, Mamee, Panadol, Mentos, Dutch Lady, Tai Sun, Marigold HL, Lot 100, Yeo's, Calpis and many more!
Also, if you're looking for some delicious, edible paus, you can check out 7-Eleven Malaysia's in-store Fresh to Go bakeries. By purchasing Fresh to Go items as part of your minimum spend, you're entitled to stickers too!
How great is that!? You get to collect DreamWorks stickers AND KouKou while purchasing your everyday items from 7-Eleven Malaysia. Talk about killing two birds with one stone!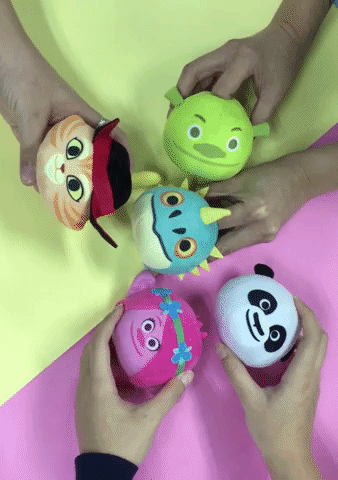 There are also many different ways you can utilize these collectible KouKou. Use them to store your stationery, as mini picture holders, give them away as a gift, or maybe just use them as adorable decor items on your desk. You can do whatever you want. It's all up to your imagination!
In addition to these adorable KouKou plushies, customers can even drop by their nearest 7-Eleven Malaysia to pay their U Mobile, TM, Syabas, Tenaga Nasional Berhad and Astro bills, 24 hours a day, every day and avoid long queues! Mobile and Touch 'n Go reloads are also available! Talk about convenience!
Make sure you drop by a 7-Eleven Malaysia store today!
Download the KouKou stickers collectors' card here, or Like 7-Eleven Malaysia's Facebook page for more info, contests and giveaways!