5 Beautiful Cafes With Amazing Desserts In Klang Valley You Must Try
Featured image source: azrulreezal / jndespresso
Cafe hopping is one of our favourite past times. With delicious food, tasty drinks and awesome spaces, who wouldn't love it? Plus, cafe hopping makes a great past-time to chill with a loved one or with a few friends.
So what do you do when you run out of cafes to visit? Find out new ones of course! Or revisit your favourite ones.
We've compiled 5 awesome cafes which have beautiful spaces and equally alluring desserts to complement. A definite satisfaction for your eyes and tummy. Not forgetting instagram feed.
Check them out!
1. Lepaq-lepaq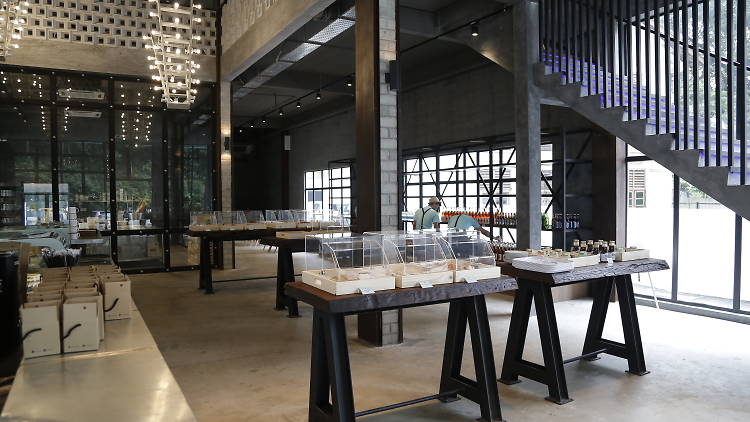 Image source: timeout
Lepaq-lepaq is a rather industrial looking cafe with the spaces brightly litted by their ceiling-to-floor windows. A total must for insta worthy pics!
The cafe serves mostly western food such as meat platters, sandwiches and pastas but they are known for their Rainy Day Coffee which is a unique caffeine drink served with a cotton candy hovering above the cup. The hot steam from the long black coffee is supposed to melt the cotton candy, this sweetening the drink. You can eat it individually if you like!
Another must try is their nasi lemak cheese cake. There has been mixed feelings about these one, with some tastebuds being unable to cope with the weird combination, while others loved it.
Location: Lot 687 Seksyen, 57, Jalan Bukit Ceylon, Bukit Ceylon, 50200 Kuala Lumpur.
Operating Hours: 11.00am-9.00pm daily
2. The Forum
Image source: eatdrinkkl
The Forum is located on the ground floor of a boutique serviced suite, The Signature. The cafe brings some Melbourne flavours to our local soil and some very interesting desserts that should not be missed.
Their tantalizing golden brown pancakes finished off with raspberry and cream cheese topping is to die for. While their other must-tries are their Signature Hot Chocolate (mini marshmellows included!) and coffee creme brulee.  
Location: 3, Jalan Sri Hartamas 22, 50480 Kuala Lumpur.
Operating Hours: 11.00am-11.00pm daily  
3. VCR 
Image source: kakikang
If you arrive at an all-black painted building, then you're at the right place! VCR is known to attract quite a crowd, especially during the weekends, and with good reason too! The cafe serves one of the best breakfast/brunches and desserts. The cafe owners are passionate in churning out their very own delicious desserts, and has recently put 4 new ones on the menu that got everybody's saliva dripping.  
Location: 2, Jalan Galloway, Bukit Bintang, 50150 Kuala Lumpur.
Operating Hours: 8.30am-11.00pm daily  
4. Seven Cups
Image source: thegardennom
Seven Cups is located in Empire Damansara and this cafe serves curated coffee, home-made bakes, freshly made waffles, and ice cream sandwiches. You can even choose to go for the vanilla or chocolate ice cream sandwich! A perfect treat to beat the hot Malaysian weather.
Location: Jalan PJU 8/8, Damansara Perdana, 47820 Petaling Jaya, Selangor.
Operating Hours: Mon-Sat 11.00am-11.00pm; Sun 11.00am-8.00pm    
5. J&D Espresso
Image source: jessytheklchic
Established since 2012, J&D Espresso is one of the well kept gems of Bandar Utama. Besides their aesthetic sweeties, one of the cafe's most popular dessert is a savoury dessert, the Eggs and Bacon Pancake.
Other desserts such as the Salted Caramel Panacotta, Chocolate Lava Cake and Pancake Stack topped with berries are equally to die for.
Location: Oasis Business Centre BU11, Lebuh Bandar Utama, Bandar Utama, 47800 Petaling Jaya.
Operating Hours: 9.00am-10.00pm daily