12 Amazing Hostels To Stay In Seoul Under RM77 A Night
Over the years, people realize how important travelling is. It exposes you to different cultures of the world and food (because we Malaysians really know howda munch!) and it usually leaves you astonished at the differences. You'd find most of your experience abroad intriguing with the new things you learn and new people you meet, but more importantly you'll bring these memories with you for the rest of your lives.
Well if Seoul, the amazing capital and largest metropolis of South Korea is your next destination or is one of the countries on your list, here are some places you should consider staying at:
1. G Guest House
Having established since end of April 2014, G Guesthouse is located conveniently within a 1-minute walk from Itaewon Subway Station (Line 6).
Located in the heart of the Itaewon district, guest get to enjoy Itaewon's countless international styled entertainment venues, arts, shopping and dining options. Did we mention that they also even have a banging bar!
Price: RM70 per night
For more info, check them out here.
2. Kimchee Sinchon Guesthouse
Kimchee Sinchon Guesthouse / Hostel in Seoul offers high quality low cost accommodation in the heart of Sinchon and Hongdae area. The area is youthful and full of energy, which is perfect for young travelers.
The place emphasizes on their friendliness of their staffs, and are always happy to help travelers with any enquiries such as places to visit, bars to try out, food to recommend and everything else!
Price: RM44 per night
For more info, check them out here.
3. Private Cubbies
Located in Mapo-gu, Private Cubbies is a space to accommodate 10 people. It's located in a rather central region and is only minutes away from some interesting bars and restaurants. The place even have their very own 'weekend waffle' which brings all the guest to the rooftop kitchen in the morning for some tasty munchies. A plus? Breakfast is included!
Price: RM55 per night
For more info, check them out here.
4. Urban Art Guest House
Urban Art Guest House is located in center of Mullae Art Village, where he industrial neighborhood of Mullae-dong first transformed into an art district when young artists began to set up studios in abandoned steel foundries there. It is the best place to enjoy korean contemporary arts and meet fellow travellers with the art village incubating various kinds of spaces such as workshops, galleries, cafés, and concert venues. The guesthouse is accesible by the Mullae Station (line2) which is only 4 minutes away.
Price: RM55 per night
For more info, check out here.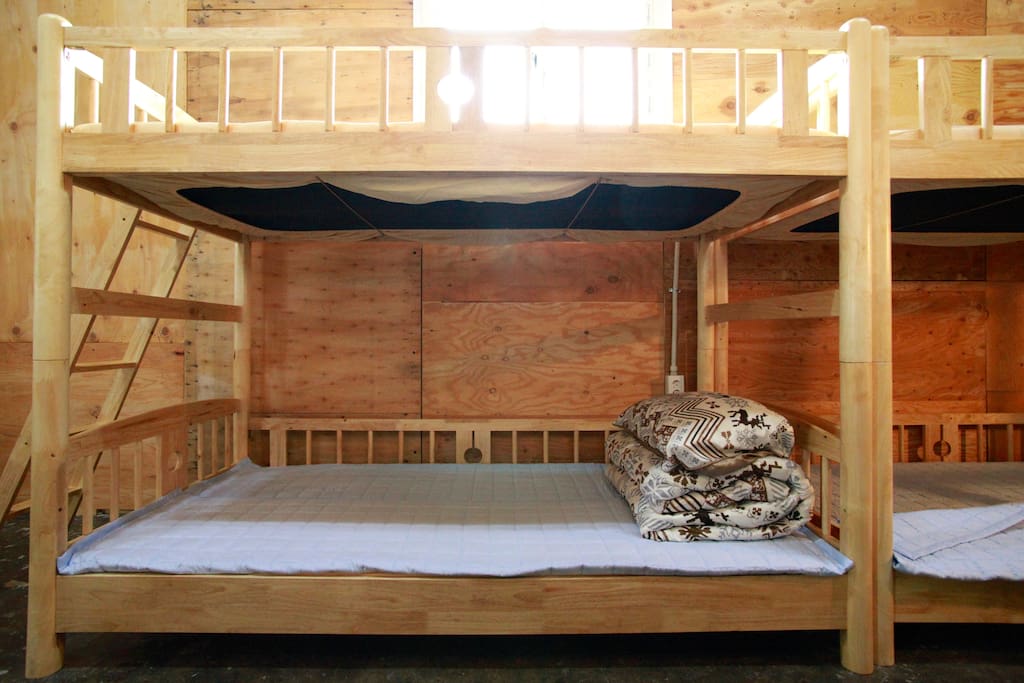 5. Kimchee Downtown Guesthouse
Kimchee Downtown Guesthouse offers private rooms, dorm beds and free Wi-Fi. It's located a minute walk from Chungjeongno Subway Station (lines 2 and 5) and an 800-metre walk from Seoul Station. Their room rates are relatively lower than most people so it will be an ideal choice of a budget and convenient accommodation in Seoul.
Price: RM44 a night
For more info, check out the space here.
6. GET Guesthouse
GET Guesthouse is located in Hongdae, the place known for its urban arts and indie music culture, clubs and entertainments. Although their bedroom aesthetic is not something to shout about, GET Guesthouse still has received outstanding reviews for its cozy space and hospitality from the amazing hosts. Additionally, GET is located near Hongik Univ Subway Station and is convenient to reach from the airport.
The space has a great common area as Mr Kim, the host is a world traveler himself and he is able to bring everyone who stay under the same roof together.
Price: RM77 per night
For more info, check out the space here.
7. Pencil 5 Hostel
This is probably the only hostel you can enjoy National Park Bukhansan in Seoul easily. It is easily accessible from the Airport (Just 3 min. walk from the Sta.). It is located at Yeonsinnae station near Gyeongbok-gung and Insadong, one of the hottest location in Seoul, downtown.
The place offers an affordable and high quality accommodation, with varieties of free services to our guest, as well as necessary travel information on Korean history and culture.
Price: RM62 per night
For more info, check it out here.
8. UWA Guesthouse
The place is conveniently located in Mapo-gu Seoul and accommodates up to 8 people of either genders. It is only a 5 minute walk from Hongsik station and 10 minutes to the well known Hongdae walking street. Mr Kim, the host of the space is one to make you feel very welcome on your foreign visit and many travelers have recommended the pleasant stay again!
Price: RM64 per night
For more info, check it out here.
9. VIN Guesthouse
Vin Guesthouse recently just opened its doors to travelers last year and accommodates up to 4 people. The space is conveniently located just 2 Minutes from the Subway Line 6 Sang-su Station and can be conveniently reached from the airport.
VIN Guesthouse is hosted by two guys, J and Lio who love people and travelling. These 2 passionate young men love helping travelers create fond memories of their own country Korea by making them feel right at home, so staying with them would be a treat!
Price: RM73 per night
For more info, check out here.
10. Seoul Hostel
Located in Yeongdeungpo-gu, Seoul Hostel is a modern boutique hostel with a reinterpretation of the 80s in Korea. The cosy space accommodates up to 9 people at once and even offers rooftop access for guests to get a glimpse of the beautiful city.
The place is conveniently located near the Shindorim subway station which is only about 3 minutes walk away.
Price: RM50 per night
For more info, check it out here.
11. Cosy Place
Located near Gimpo Airport, this space let out by Host Jung-Ah is something a little different than your usual travel trips. Jung-Ah only offers two bunkers in her own home and shares authentic Korean culture to travelers who stays at her place. Many who have stayed with her commended on her hospitality and 'feels-like-home vibe'.
So if you're in for some real down to earth Korean culture, you may want to dive into this one.
Price: RM73 per night
For more info, check it out here.
12. Nanu Guesthouse
Located in the young vibrant area of Hongdae, the guesthouse is surrounded by cafes, clothing shops, retail stores, art shops, and restaurants. At night, travelers are able to experience the energetic Seoul nightlife as street performers take the streets with amazing acts while bars and clubs are found in the area.
Price: RM45 per night
For more info, check it out here.