10 Things You Missed Out On Malaysia's Largest Cyber Games Festival
The Malaysia Cyber Games (MCG) 2015 made its debut this 11th December and the 3 day long gaming festival made its mark on Malaysian records. If you didn't manage to go, here are a few things that made it awesome:
1. Free Entry
In support of participants to come join and enjoy the live gaming battle, MCG provide free entry for everybody throughout that 3 day event! and don't we just love free stuff? Whoooots!
2. Huge ass screens to make it all the more legit
Wow macam yes right? Of course la! Sponsors such as telecommunication and media giants, TM and Astro were in on the action too!
3. Special guests Team Secret
One of the highlights for the event was its international DOTA superstar guests, Team Secret. Ticket holders were allowed to participate in the signing session with these DOTA 2 stars. So practically anyone who went could've met them. *fanboying!*
4. Cheer and scream as Malaysians battle it out to be on top
It was great fun while you cheered out along with your friends (practically making a lot of noise) for your favourite players, even if you didn't know any of them beforehand.
That was me in the middle.
5. The selection of Malaysia's official DOTA 2 national team, Team Taring
There were over 792 teams who registered for the competition and Team 123 came out on top. They are now chosen to be our national Dota 2 team, Team Taring. #ggwp guys!
In case you didn't know, '"taring" means fangs, with a reference to our national animal, the Tiger.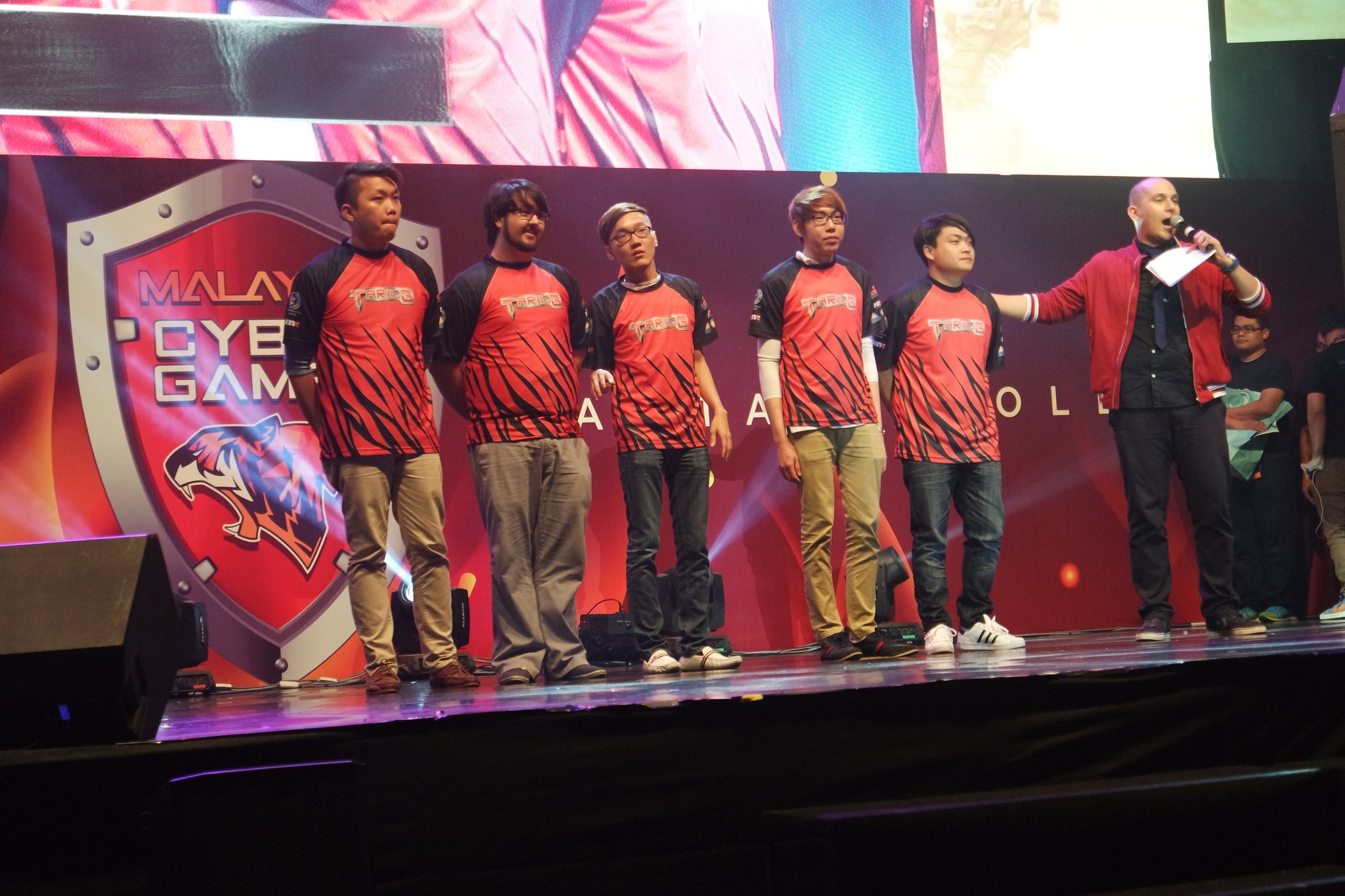 6. Subsequently, Team Secret and Team Taring have a 10v10 battle with 5 random audiences in each team
Yes, 10 random audiences from the stadium were selected at random to either battle with or against Team Secret and Team Taring. Those lucky b*****ds!
7. Cosplayers
During the event, there were a few cosplayers who dressed up as DOTA 2 and CS:GO characters and had fun near the booths. Take some pictures with them while you're at it!
8. Self proclaimed No. 1 FIFA player showing his moves
The Ministry of Youth and Sports, Khairy Jamaluddin showed off his sporting side (pun intended) by teaching a few gamers a thing or two about FIFA.
9. Super special guest appearance
Our very own PM Najib Razak came with full support for the e-gaming world. He endorsed and officiated the gaming festival as well as stayed around to catch the competitive matches.
Source: lowyat.net
10. Malaysia is actually starting to be cool
Thanks to MCG, I guess you can consider that Malaysia is finally cool enough in the eSport world. Politics aside, the government realized the importance of online and video gaming and are in full support of it! The festival was even endorsed by the Ministry of Communications and Media. Although this time round, DOTA 2 got the spotlight, other games include FIFA 16, CS:GO and Ultra Street Fight IV were also included during the festival. We sure do hope to see other games will be given as much limelight next time round!
#MalaysiaCyberGames #MCG2015
Which probably means more gaming competitions and festivals for us gamers.
If you missed out on this, don't let it happen again! For future gaming events, follow Malaysia Cyber Games' Facebook page here.
#MalaysiaCyberGames #MCG2015