Watch: Ghana Coffin Dancers Warns The World to Stay Safe Or They'll Come And Get You
If you've been on the Internet recently, you will definitely know who these guys are.
Coffin dancing meme is the only good thing that's happened 2020 pic.twitter.com/W7ioPkhykJ

— TJ (@TjTahir) April 27, 2020
Known as Ghana's dancing pallbearers, a video of them carrying a coffin on their shoulders while they danced at a funeral went viral back in 2017. They quickly shot back to fame during the Covid-19 pandemic outbreak and are now more commonly known as the Coffin Dancing Meme.
Now paired with an EDM track by Tony Igy "Astronomia", short snippets of the dance and countless witty memes have made them a "symbol of death" as a warning to citizens of the world to stay home and stay safe.
In a recent video uploaded to Twitter, the Ghana coffin dancers have given the warning themselves by telling the world to "stay safe or dance with us."
And 2020 has come full circle…

The Ghana coffin dancers made a video to thank doctors and also warned everyone to "stay home or dance with us." pic.twitter.com/eDNzevR68U

— Michael Schwab (@michaelschwab13) May 5, 2020
That evil laugh at the end of the video though.
After becoming an Internet sensation, their business has been booming ever since and their fame could influence their rates for the service after the Covid-19 pandemic, said Benjamin Aidoo, founder of the group in an interview reported by The Ghana report.
"The popularity we have received is booming our business now. We would increase our prices after the coronavirus. For now, we have a manager in Kenya and we have a lawyer too in Kenya."
"In Ghana you need to be creative, I noticed that a lot of pallbearers wore black but i wanted mine to be different so I added color, white, red and black outfit."
"Some people they don't want to cry anymore, other people too whether they want to cry or not we make the happy, we make them cheerful because of what we are doing."
"We try to improve on our choreography for people to know that we are a unique group of pallbearers."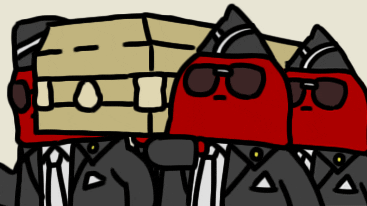 Please stay safe and practise social distancing if you have to go out. But if you have no reason to leave your house, stay home! Unless you want to meet these guys then…..it's up to you!
Also read: Thailand's Erawan Shrine Dancers Still Look Poised Wearing Protective Face Shields While Performing