Respectful Sabah School Kids Salam Their Security Guard Before Entering School
Kids who are well brought up are taught not just manners and ethics but also a deeper understanding of humility, empathy and humanity.
These school children in Sabah have clearly proven that they've got what it takes to become kind, contributing members of society in the future.
Azwan Mahmin took to his Facebook page to showcase a video he had taken of these kids walking up to the security guard for their school and shaking his hand before entering the school grounds.
Azwan wrote, "Peace be upon you, firstly I'd like to apologise to the school for secretly filming this, but I felt touched by the culture that has been applied onto the students of this school, to respect people from all walks of life. Congratulations to the school staff and to all the parents. I feel very proud to see such cultures being practised in a school. This is one of the best moral values to have."
Even netizens couldn't hold back their praises and took to the comments section to let it all out.
This comment says, "Good! The security guard is like a father to them, he ensures their safety while they're in school."
This comment reads, "The best. Such teachings start at home. The politeness that is practised at home will become their culture. Hopefully, they become an example for other children."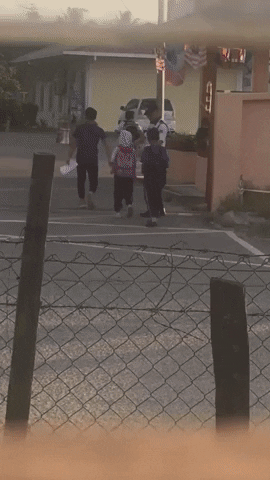 Azwan's posting has since garnered over 6,900 shares.
It's truly refreshing to see such humble kids. Their parents clearly did a good job with them.
Let's hope they become shining examples, to teach the rest of society on how to treat their fellow humans. 
Also read: 16yo M'sian Spends His Weekends As a Food Delivery Rider To Learn Independence & Gain Experience